COL (Ret.) George L. Converse, Jr.
courtesy of the Ohio State University Libraries
The Reserve Officers' Training programs for the Army, Navy and Air Force are such fixtures at OSU that it would be difficult to imagine the campus without them. There was a time, however, when there was no such thing as the ROTC program. With the help of George Converse, and several other OSU leaders, the national ROTC program was created and the OSU program flourished.
Converse, who grew up on a farm near present-day Cleveland Avenue, enrolled as a freshman at OSU at age 17, in 1874. After his first quarter, however, he received an appointment to West Point, and eventually graduated in 1880. Two years later, he was a member of the 3rd U.S. Cavalry in Wyoming, when his company was sent to Arizona to combat the uprising by the Apaches, led by Geronimo. In one battle, Converse was shot in the eye and had to ride on horseback for 40 miles to receive medical treatment. The bullet was never extracted, and the rest of his life he wore a black eye patch. University lore said that he could see more with his single eye than most men could see with two.
Due to his injury, he retired from active duty in 1884 and returned to Columbus. He was later called back to serve in the Spanish American War, but returned again to Ohio State in 1900 to serve as the University's first Commandant of Cadets in the Department of Military Science. He held that position, as well as a professorship and subsequently chairmanship, of that department for 18 years. During his tenure, enrollment grew from 400 to almost 3,000 students. Commandant Converse, whom students affectionately referred to as "Commy," also gave regular Thursday morning talks to male freshmen. (On Wednesday mornings, the freshmen listened to President William Oxley Thompson.)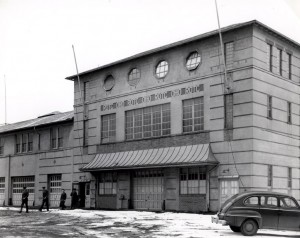 Converse Hall, 1949
With the outbreak of World War I, Converse returned to active-duty status, this time as examining officer for all Ohio officer training camps. During that period, as he continued his teaching duties at OSU, he also co-authored the Ohio Plan, along with Pres. Thompson, Gen. Edward Orton Jr. (professor of ceramic engineering) and OSU alumnus Ralph D. Mershon. That plan, which outlined university civilian training programs, became part of the 1916 National Defense Act, which established the ROTC as a national program.
In 1918, he left OSU when the military promoted him to district inspector, overseeing officer training camps in Ohio, Indiana, West Virginia and Kentucky. In 1920, he retired from the military—for good—and returned with his wife, Effie, to their house on Neil Avenue. (Effie had served as interim Dean of Women during the 1918-19 academic year.) He died on November 16, 1946.
Five years before he died, ground broke on the ROTC building, on February 17, 1941. In 1973, the Board of Trustees voted to re-name the building after Converse, who had served longer than any other Commandant at OSU.